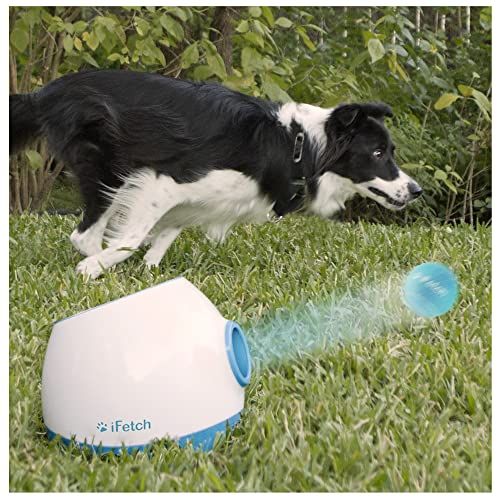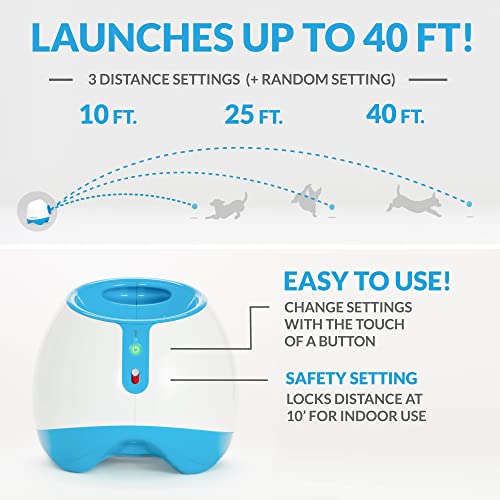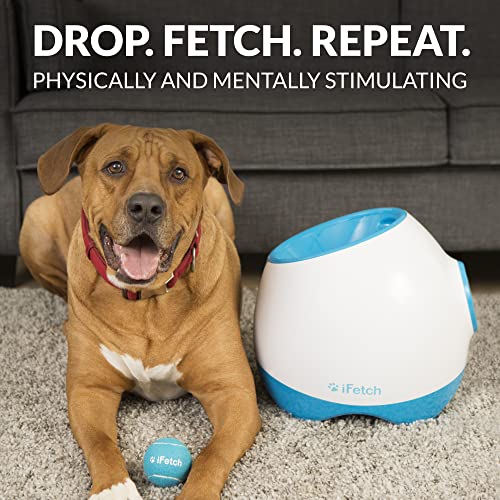 iFetch Too (Large) Interactive Ball Thrower for Dogs- Launches Standard Tennis Balls
Brand: iFetch
Color: White, blue
Features:
Interactive, on demand ball launcher that lets dogs play fetch to their hearts' content
Runs on a built-in, rechargeable battery
Comes with three 3 non-abrasive, pet-safe tennis balls
Strengthens the bond between dogs and their humans and brings a fun new twist to the familiar game of fetch
Release Date: 18-02-2019
model number: 222
Part Number: 222
Details: From the Manufacturer Fetch-a-holics rejoice! The iFetch Too is perfect for big dogs who love their tennis balls! Change the launch distance to 10, 25 and 40 feet with the touch of a button. It's that easy! There's also a random distance setting for more fun. The iFetch Too launches immediately, to minimize the chances of the ball hitting your dog at close range; but we recommend training your dog to drop the ball in from behind, as good practice. Comes with a built-in, rechargeable battery that can last and last (we've counted over 300 launches!). Bring it to the park and watch the dogs come running. Happy fetching! Award-winning ball launcher! The iFetch Too won "First Place" in the New Product Showcase dog category at SuperZoo, the pet industry's largest trade show, and "Second Place" at the Global Pet Expo's New Product Showcase. The best praise for us, though, is seeing online videos of dogs enjoying the iFetch Too! We care about safety too. Under the power/distance setting button, there is a button you can slide to lock the distance to 10 feet. No matter how many times you press the button to adjust distance, it will stay at 10 feet. This allows easy play indoors and is recommended for early training until your dog learns to wait behind (or beside) the iFetch Too when it launches. Step 1: DROP Train your dog to "drop!" the iFetch tennis ball into the top of the iFetch Too. We recommend using another ball (showing another pretty blue ball will make them drop the one they have) or using treats (yum) for motivation. Step 2: FETCH Encourage your dog to "fetch!" once the ball launches from the iFetch Too. You may need to launch a few balls from the tennis ball machine at first, showing your dog that his new toy actually throws the ball – it doesn't eat it. Step 3: REPEAT Now, coax your dog to "bring!" the ball back to the iFetch Too for more fetching fun. Again, try using another iFetch ball or treat to get them back behind the launcher again and ready to drop. And don't forget to shower your dog with praise! A family company on a mission to create better dog toys. We started the company with a grandfather / grandson tinkering project in the garage, followed by a successful Kickstarter campaign, and now almost four years of experience under our belts. There are a lot of dog toys on the market, but we strive for new and different. All of our products require some level of training to be able to play with the toys independently, which we think creates a wonderful bonding opportunity for owners and their pets. Even if your dog never "gets" the idea of dropping the ball into the top of the toy, you can still play and interact with them through the toy. These shared experiences are special. We like to think our toys are special too. About the Startup Describe your product in 3 words. Healthy, fetching fun. How did you come up with the idea for this product? Once we developed the iFetch ball launcher for small dogs, we were flooded with emails from customers wanting a larger version for their big dogs. After another successful Kickstarter campaign, we launched production of the iFetch Too. What makes your product special? We think our iFetch Too ball launcher is an engineering work of art. We designed the launcher to only launch one ball at a time on purpose. The mental energy it takes for a dog to understand where and how to drop the ball so that it is automatically thrown for him is pretty amazing. And mental stimulation is so important for a dog's well-being. "Use it or lose it" applies to dogs as well as humans. Our iFetch Too launcher is portable, durable, and features an internal, rechargeable battery. All of these features were important to our customers. What has been the best part of your startup experience? The best part of our startup experience is seeing the videos owners post of their pets playing with our iFetch products. Watching dogs get so excited waiting for the ball to launch makes all of the hard work worthwhil
EAN: 0857331005033
Package Dimensions: 17.5 x 17.0 x 14.8 inches
For orders placed before 7am EST, we endeavor to process the same business day. Orders placed after 11am AEDT will be processed the next business day.
During sale events and new collection launches, there may be a slighly longer processing time.
.
You can choose between a refund or a credit note on full priced items.
Item(s) must be returned in their original condition and packaging: unworn, unwashed and with all tags attached.
Earrings cannot be returned due to health and safety reasons.
Return shipping methods and associated costs are the responsibility of the customer.
Sale items can not be refunded for change of mind.