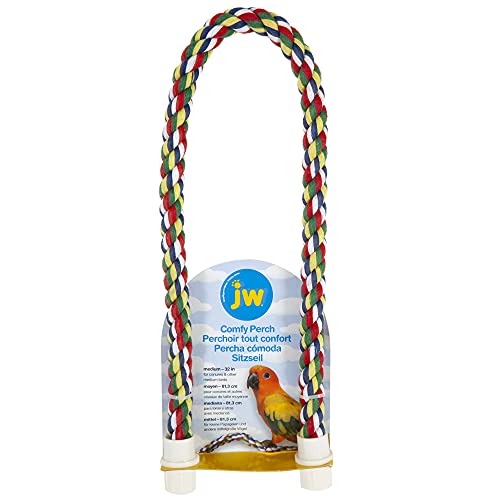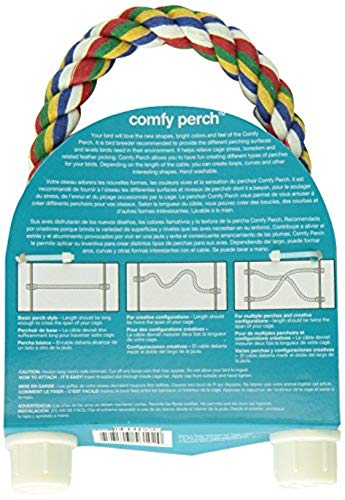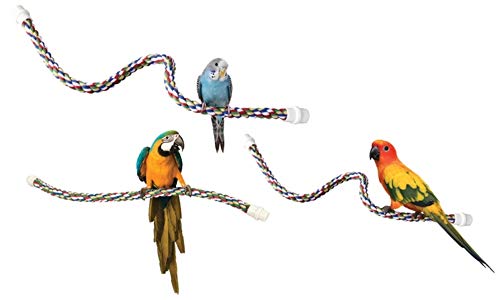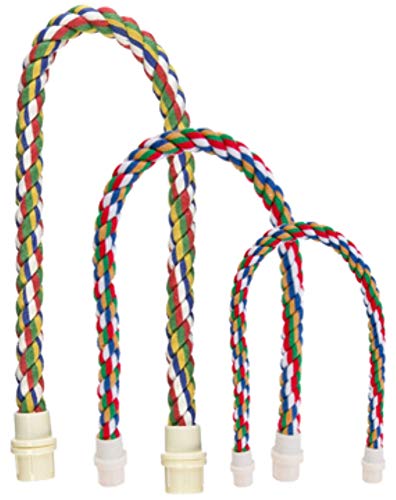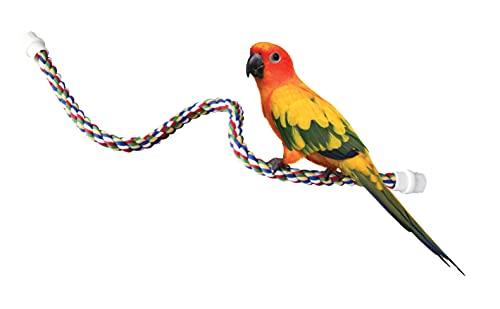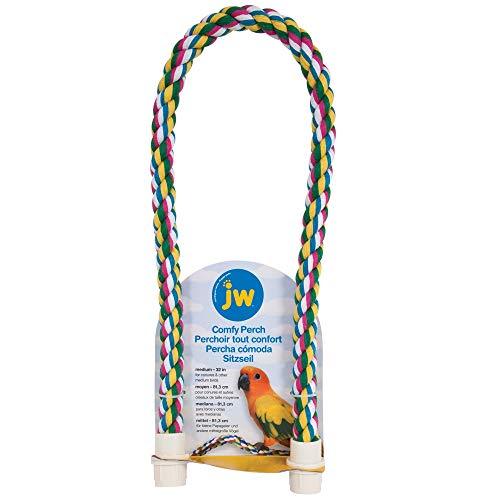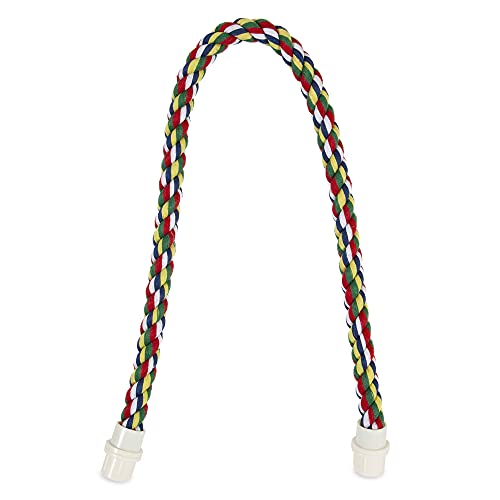 Pet Comfy Perch For Birds Flexible Multi-Color Rope, Medium - 32" Length
The Pet Comfy Perch for Birds offers both practicality and visual appeal. Its flexible, multi-color rope design provides a comfortable and secure place for birds to perch and exercise. With a medium size and 32" length, it suits various bird species. This perch not only enhances your bird's well-being but also adds a vibrant touch to their habitat, making it a great addition for bird enthusiasts.
Features:
Customizable Bird Perch: This rope bird perch bends into a variety of shapes to stimulate birds with different perching surfaces Rounded support for bird's feet promotes joint health comfort
Medium Perch For Birds: Provides a comfortable grip for larger birds like Macaws Includes screw-off attachments to attach the bird perch to different sides of the bird cage Measures 32" M
Pet Toys: Get ready for bonding fun with your dogs cats Check out a variety of our pet toy products such as flyers, perches mirrors for birds, prey wand toys for cats, plush toys, light-up interactive toys more
Bird, Cat And Dog Toys: Get Ready For Bonding & Fun With Your Dogs & Cats! Check Out A Variety Of Our Pet Toy Products Such As Flyers, Perches & Mirrors For Birds, Prey Wand Toys For Cats, Plush Toys, Light-Up Interactive Toys & More Large Dog Toys
Jw Pet Toys: Durable dog toys, intricate toys for dogs, cats & birds to keep your pet entertained. Checkout JW products for mirror bird toys, perches for birds, play gym & rope toys, dog treat toys, interactive toys, & more
model number: 56116
Part Number: 114880
Details: JW Pet's Comfy Perch is a versatile rope perch that provides entertainment and exercise for pet birds of all sizes. These flexible bird perches for parrots are easy to bend and twist into a variety of creative shapes, allowing pet parents to keep birds stimulated with different perch styles. Modifying the bird cage with perch variations promotes exercise and improves birds' grip strength as they climb a variety of perch shapes. The bright colors attracts birds to the perch and the soft, curved rope provides gentle support for birds' feet for long-term joint health. Plastic, easy-twist attachments ensure convenient placement in bird cages and allow pet parents to install the rope horizontally or vertically. The JW Pet Comfy Perch is available in three sizes and offered in a variety of lengths and widths to accommodate smaller birds like Budgies, Parakeets, and Cockatiels or larger birds like African Grey parrots, Cockatoos, and Macaws.
EAN: 7922470346484
Package Dimensions: 15.6 x 5.7 x 1.5 inches
For orders placed before 7am EST, we endeavor to process the same business day. Orders placed after 11am AEDT will be processed the next business day.
During sale events and new collection launches, there may be a slighly longer processing time.
.
You can choose between a refund or a credit note on full priced items.
Item(s) must be returned in their original condition and packaging: unworn, unwashed and with all tags attached.
Earrings cannot be returned due to health and safety reasons.
Return shipping methods and associated costs are the responsibility of the customer.
Sale items can not be refunded for change of mind.